MM-Coding Polo Shirt *DAS ORIGINAL*
Aufgrund großer Beliebtheit, bieten wir hier unser schwarzes MM-Coding Poloshirt zum bestellen an.
Dieses Poloshirt basiert auf dem beliebten und fair gehandelten "Fruit of the Loom" Poloshirt und wird von unserem Partner, mit sehr hochwertigen und strapazierfähigen POLI-FLEX Premium Folien bestückt.
Unserer Langzeiterfahrung hat ergeben, dass auch mehrmaliges Waschen, Anstrengende Arbeiten sowie Verschmutzungen, den Aufklebern nichts anhaben können.
Unser ORIGINAL MM-Coding Poloshirt hat Werbeschriften und Logos auf dem rechten Ärmel, dem Hemdkragen links, sowie der linken Brustfläche.
Überzeugen Sie sich selbst!
Gerne schauen Sie vorab einmal in unserer Werkstatt vorbei und lassen sich bei einem kühlen Getränk oder einem leckeren Kaffee von unseren Poloshirts überzeugen.
Seien Sie gespannt, wenn wir unser Portfolio für Sie erweitern und abonnieren uns auf Facebook.
Hinweise
Bitte teilen Sie uns unbedingt Ihre Versandadresse für die bestellten Artikel mit.
Die Lieferzeit beträgt bis zu 14 Werktage. Versand kostenfrei und je nach Bestellmenge mit der Deutschen Post oder DHL.
Ansicht Vorderseite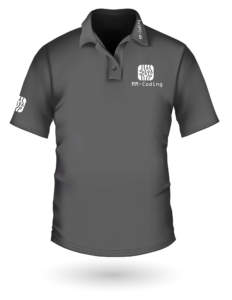 Ansicht Rückseite